Experience After arriving at Entebbe Airport (EBB)

After arriving at the Entebbe International Airport, you exit the plane and go straight to the health tent for screening. Here, they check for diseases like Covid-19, yellow fever and the Ebola virus.
After screening process, you proceed to the immigration desk for entry permission. The officials require you to make a line such that they attend to every person in an organized way. You present the necessary travel documents for approval. These documents (passport, Visa and health cards) must be legit. The Airport has free WIFI. Communicate with your colleagues, relatives or driver as you do the clearing.
Once cleared, you sit somewhere to wait for your baggage. In a few minutes, it will be out. Pick it from the conveyor belt and proceed to the next area. You find different service providers like outlets for telecommunication companies that sell local Sim card. Forex exchange agents, eateries, money transfer points, and rest room. Finish necessary business inside, and move out to meet your relative, friend or taxicab driver.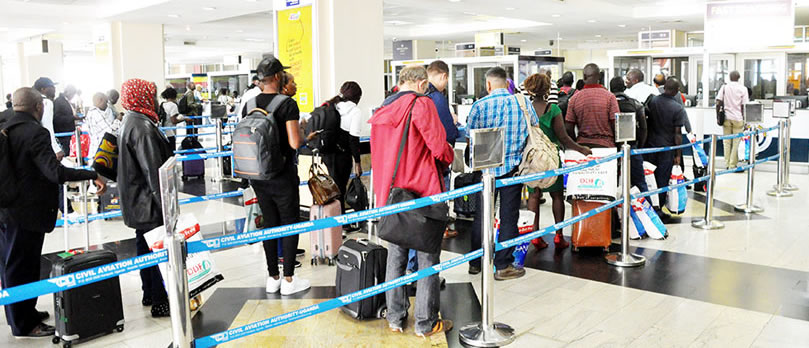 Once you Exit the Arrival hall
When you exit the arrival hall, you find people at the waiting area standing with placards that showcase various names. If you have an arrangement with someone to pick you up, look for a poster with your name.
The place is crowded whenever two or three planes land at EBB. Take your time and look for your name. If you fail to see your name, please call him or send a WhatsApp text. It is always good to have the phone contact of the company's driver or reservationist.
Moving past the waiting area, you find two tents, the VIP parking area, Airport taxi area and the ordinary parking lot. You see people moving around. Security officials in black uniform are available to guide you. In case you need help, don't hesitate to ask them.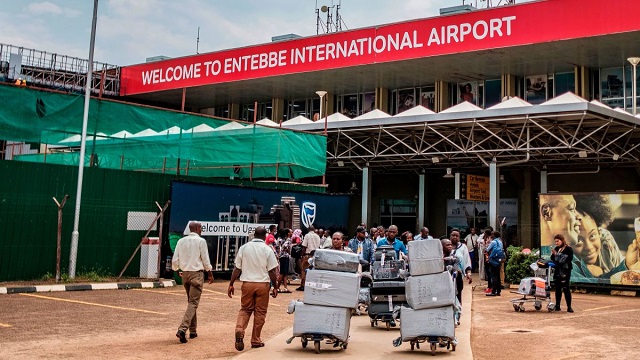 Outside the Airport gate.
From the Airport parking, drive for some few meters and find the gate. The driver is required to insert the parking ticket in the machine. It will open for you to continue with the journey. There is a fuel station outside the gate. You can branch off to refuel if you don't have enough fuel in the car.
Continuing with the drive, you appreciate the spectacular views of the road side beaches, the UN base and the Entebbe town. Enjoy the drive to your hotel in Entebbe, Kampala or other places in Uganda. If you forget to exchange money or buy Sim card inside the Airport, you stop at Victoria Mall, and finish this business.