Get From Entebbe Airport To Fort Portal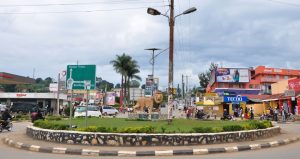 Fort Portal ranks the second if not the cleanest town in Uganda. With a plethora of captivating draws surrounding it, it is easy to see why most travelers enjoy spending some good time within. It is located in the Western part of Uganda.
You can get there by Car via Kampala – Mubende – Fort portal highway. The drive from Entebbe runway to Fort Portal in the western region takes about 6-7 hours leaving other factors constant.
If you wish to travel from Ebb airport to Fort portal, we are always here to offer you remarkable Airport Taxi Services. Book with us and everything will be sorted out at unbeatable prices.
Once you get to Fort Portal, you have a list of hotels, lodges or guest houses to choose for your complacent night stay. Most of these accommodation properties make it easier by featuring an on-site restaurant and a bar meant to serve well-prepared meals to guests and fresh drinks.
Other than the around town attractions like the Royal palace of Tooro Kingdom, Fort Portal town is a perfect base to explore the nearby scenery like Kibale Forest National Park, Semliki and Mount Rwenzori National Park.
Kibale Forest National Park is a few kilometers from Fort town and it is home to over thirteen primate species including the Chimpanzees. If you love primates, then this is your correct answer.
Chimpanzee tracking is the main activity offered in this park. It takes place in three sessions including morning, afternoon and after lunch excursion. Other activities you can partake are bird watching, chimpanzee habituation and Bigodi walk.
If primate encounters don't appeal, you can visit Mount Rwenzori for great hiking adventures up to the top. The expedition usually lasts for about one week (seven days).