Rent a Coaster Bus In Kampala, Uganda
Are you planning to get around Uganda in a group? A coaster bus is for you. Don't delay hiring one for a ride within Kampala, Jinja, and other places. Nothing is more thrilling than traveling to different places while sharing ideas with your colleagues.
Not like solo travel, for shared trips, you have no room to get bored. Travelers hire the coaster to explore Uganda's pretty allures, preach the gospel or get from one place to another for business meetings.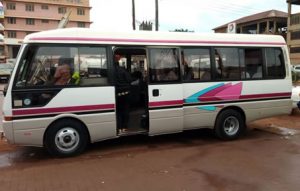 This type of car is great not only for road trips to the country's numerous places but also fantastic for a group transfer from Entebbe airport.
It is big enough with space for luggage and accommodates up to twenty-nine passengers. There are other models which exceed this seating capacity.
Coaster bus rental in Kampala, Uganda includes the driver. This vehicle isn't provided for self-drive. You must take it with a driver. Multiple English-speaking car operators are available to transport you to any location in the nation.
Details about the Car
The Toyota Coaster has its unique features and models. The seating capacity of 29 passengers, high roof, spacious cargo cabins and good ventilation makes this vehicle a great deal for group tours, school trips, seminars and airport transfers.
Some coasters are 4×4 and others are 2WD. If you expect to use murram roads, make sure to book one with four wheel drive. During the rainy season, these gravel roads tend to be muddy and slippery.
Charges for the Bus Rental in Uganda
The rates for the rental are per day and it includes the driver and car, but excludes fuel or gas. Prices for Bus hire depend on the regions where you are heading.
The Charge for a drive within Entebbe, Kampala, and its suburbs is 120 USD without gasoline. For up-country journeys you pay 140 USD.
Feel free to contact us in case you need a super nice bus for airport pick up or transfers around Uganda. Whether you want it for a week, month or year it's available for you.
Engage us in time and make arrangements in advance. The driver will come for you at the airport or any location in the country.
Let us make your group trip in Uganda successful at a reasonable rate. Aside from that, this guide gives a glimpse of how to drive safe in Uganda.
Day Tours from Kampala in a Coaster Bus
Here are the top day tours from Kampala you can enjoy in a group using one of the available well-conditioned coasters. Traveling with friends is more fun and enchanting.
If you and your workmates, family members, or schoolmates desire to spend a weekend away from home, don't delay choosing one of these trips below.
1. Day trip to Jinja (Nile River Explorers)
Situated in the eastern region, Jinja is one of the best places for holidays in Uganda. It has a lot to keep your day or days occupied. A drive from Kampala to Jinja is awesome. It exposes you to several things along the way including views of tea plantations, Nile Bridge, Mabira forest, and more.
There is a stopover at Namawojjolo market for those who like local chicken, local bananas, and muchomo. Once in Jinja you can base at Nile River explorers camp and enjoy numerous activities like White water rafting, bungee jumping, tubing, kayaking, water sliding, and quad biking.
2. Ssezibwa Falls & Zip Lining in Mabira
If you fancy a day out just for adventure, this is for you. It starts from Kampala to Ssezibwa, a pretty fall in the Buikwe District. This attraction is along Jinja road before you reach Lugazi town. It will impress you with its cascading waters and serene environment.
Besides, take beautiful photos, you hike to the top with a guide who feeds detailed information about this natural wonder. From Ssezibwa you proceed to Mabira for the Zip-lining experience.
3. UWEC & Entebbe Beaches
A day spent in Entebbe is worth it. You visit different attractions that the area has to offer. The trip begins with a visit to the Uganda Wildlife Education Center, the only Zoo in Uganda.
This place plays host to all animals and reptiles in the country's biodiversity except the Gorillas. When inside, a guide will lead you around and see all the animals including the chimpanzee primates.
After the Zoo, you end up the day at one of the beaches in the area. Entebbe is located along the shores of Lake Victoria, therefore it is no surprise that this place is recorded with the highest number of beaches in the country.
4. Enjoy Ziwa Rhino Sanctuary
Another interesting place to visit from Kampala is the Ziwa Rhino Sanctuary. Located in the Nakasongola district, this protected area is home to the species of white rhinoceros.
A tour of this sanctuary exposes you not only to the rhinos but also to other wildlife species like birds and reptiles.
5. Hike Sipi Falls in Kapchorwa
For waterfalls lovers, make sure not to miss the ones in Sipi, Kapchorwa district. Sipi Falls is a series of three waterfalls and lies on the edge of Mount Elgon National park.
It is one of the top weekend getaways in Uganda. It takes about 5 – 6 hours to drive from Kampala to Sipi via Tirinyi road. Stopover at Sipi River lodge. They have numerous guides who can lead the hike of the three pretty falls. The adventure is incredible and stress relieving.