Entebbe International Airport: Location, Its Facilities & Transportation

Located in the central part of Uganda, Entebbe Airport is the main gateway to the country for all travelers from abroad. It is majorly used by visitors who access Uganda by plane. It is near Entebbe town and about 45 kilometers southwest of Kampala, the nation's capital.
This facility welcomes and departs several flights daily from and to various parts of the world. The companies that operate flights to this aviation facility include Uganda Airlines, the country's national carrier, Ethiopian Airlines, Emirates, Fly Dubai, Kenya Airways, KLM, Brussels, Turkish Airlines, British Airways, Etihad, Air Arabia, Air France, RwandAir, Air Link, Auric Air, Kuwait Airways and more.
Arrivals
When you land at EBB airport, the next step is clearing at the customs. You must have all the required documents for entry permission into the nation. These include the valid passport, yellow fever vaccination card, Visa, and the Covid-19 PCR test. Dont come with disallowed gadgets.
After clearing, you are forwarded directly to the testing center to do the arrival PCR test, the arrival testing is temporary and it may end in 2022 or 2023.
From testing, you are free to move out of the terminal using the exit point at the arrivals terminal. You reach the waiting area where you can find someone responsible for your pick up. There are many people at this point standing with raised signs which showcase people's names.
When you move past this area, you find another section with two tents and some kiosks that vend soft drinks and mobile money outlets. One tent is for airport taxi, hotel, and car rental services.
The other is for people who can't stand for long when waiting for their guests. Proceeding from these two tents, you find the huge parking area dotted with lots of vehicles for different people. If you have someone responsible for your Airport transfer, you will move straight up to his or her car.
At the parking area, there is a route that leads you out of the airport. Don't forget to pay the parking fee. After, you drive up to the gate. There is a machine, insert in the ticket to approve your payment.
It will later issue you permission to continue with your journey. Just after the gate, there is a fuel station. You can stop by to refill your car tank if you have less fuel. After, continue with your journey to Entebbe town or Kampala city. Driving from Entebbe on your own, you can reach several other parts of the country without a hustle.
Departures
For those who have departure flights, you have to be at the airport three hours before your flight. From Entebbe or Kampala, you drive up to the gate. Passengers in the car are required to move out for checking.
The driver continues with the car up to the entry point. If you are the driver, you wait for your passengers to get back into the car, pick the parking card from the machines and continue with the journey up to the parking lot.
Some people don't know how to get this card, especially first-timers. When you reach the machine, just press that green button, the card will automatically move out for you to pick it. To check-in, you have to use the entry point at the departure terminal.
There are always airport workers who help to carry your luggage at no cost. You are free to give a tip to that person helping you or not. If you don't have a person to take back your car, you can arrange with the responsible authority and leave it in the special airport parking area at a cost. It will be kept safe for weeks or months. There is also a section for VIP travelers.
Facilities at Entebbe Airport
Entebbe airport has facilities that are essential for a traveler. These include a restaurant where you can go for breakfast, lunch, or dinner. Forex outlets to exchange to other currencies like dollar, pound, or euro to Uganda shillings.
ATMs and mobile money outlets for you to withdraw money. There is a medical department that provides treatment to people who are not feeling well. Another thing is the Airtel and MTN shops which sell local lines, airtime, data bundles, and phones. Moreover, at the departure terminal, there is an area with seats reserved for passengers who wait for their flights.

Necessary Payments
Visitors to the Airport pay for the parking space. It is only for those who go there with a car. If you don't know where to pay from, get one officer around and ask for directions. You will get there and find some machines. Insert in the card and your money. It will take the money and give you balance if it's excess.
When you insert in less money, the machine will bounce it back. Make sure to use bigger notes like 10,000 Uganda shillings or more. The amount paid depends on the number of hours spent in the parking lot.

EBB Transportation
You can use several means of transport from Entebbe Airport. Some choose to use their private cars to reach there or move out of this facility. If you are one of those who do not own one, a taxicab is a favorite answer for your transfer.
Be sure to reserve one in advance. You will enjoy the ride at affordable rates. The minimum charge for a trip is 20 USD. This is when you are stopping in Entebbe town. Beyond this location, expect a different price. The amount depends on the length of the journey.

Vehicles allowed at the Airport
Only Saloon cars, SUVs, Vans, Minivans, Coaster buses, and special models are allowed to enter the airport boundary. Other cars like trucks that transport cargo must have special documentation. Bikes are not allowed in.
Travelers who use Boda Boda to reach the airport are stopped at the gate and reach other areas on foot. From the gate, it is a walkable distance up to the parking area or arrivals.

Hotels near Entebbe Airport
Protea Hotel by Marriot is the nearest accommodation facility. It is 3km from EBB. If you are strong and physically fit, this is a walkable distance. Other guest houses and hotels for you to stay are within Entebbe town.
The list includes Lake Point villa, four points, Boma hotel, Lake Victoria hotel, Lake heights, gorilla African guest house, Via Via, Blue monkey, secrets, Airport view hotel to mention but a few.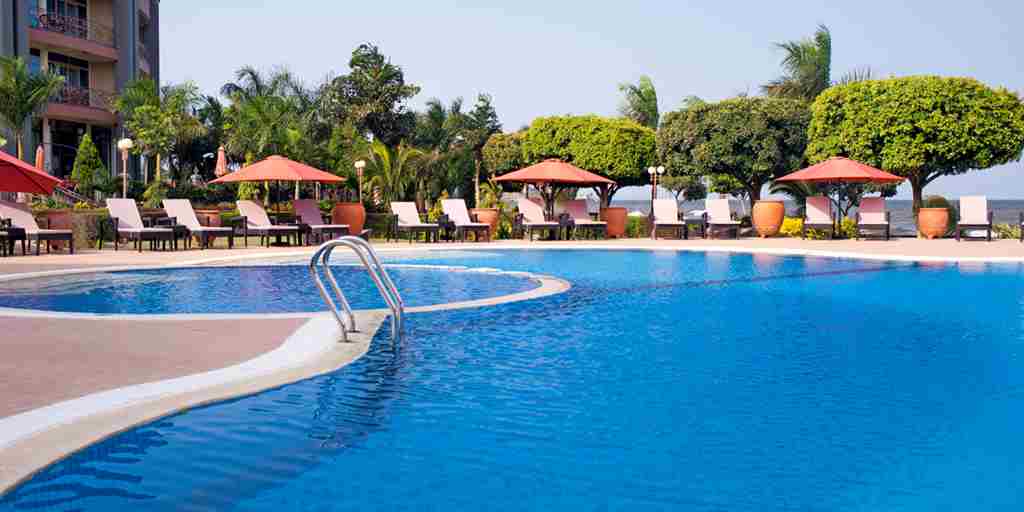 Cities near the Airport
The list of cities to access from EBB includes Kampala, Mbale, Gulu, Jinja, Fort portal, Kasese, Lira, Arua, Moroto and more. Amongst these cities, Kampala is the nearest and it's about 45 Kilometers from the Airport. It's even the capital of Uganda. The furthest city is Arua. It is found in the West Nile sub region at 490 Kilometers from the Airport. A drive by car requires not less than 8 hours.